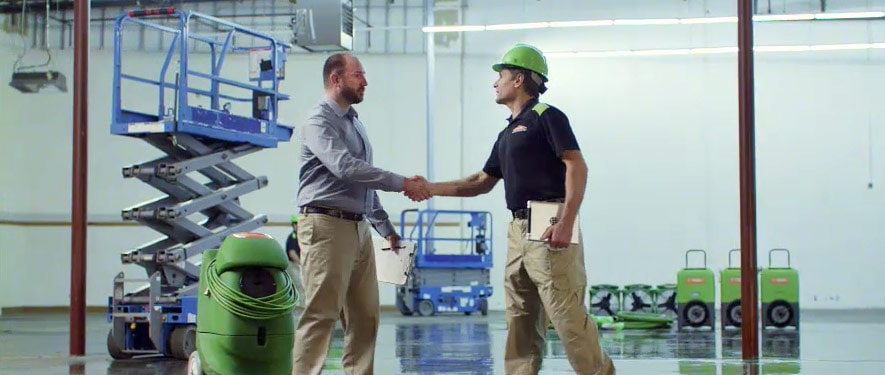 Commercial Services
Cleaning and restoring commercial properties require a unique blend of training, experience, and equipment. SERVPRO of Carbondale/Clarks Summit/Old Forge has the resources and expertise to give you excellent results while minimizing the disruption to your clients. We can help make it "Like it never even happened. We offer preventive maintenance programs for your businesses HVAC system, dryer ducts and office cleaning.
"Pollutants like dust, pet hair and mold spores can travel throughout your home or business through your air duct system hindering the quality of the air you breath. SERVPRO of Carbondale/Clarks Summit/Old Forge uses a portable system of whips and brushes to thoroughly clean and deodorize your ducts. We place the HVAC system under negative air pressure to ensure that all the pollutants are removed and captured through a hepa filter. A clean duct system improves the indoor air quality and reduces allergens and odors from spreading through your home or business.
As a fire restoration company, SERVPRO of Carbondale/Clarks Summit/Old Forge understands the dangers of clogged dryer ducts. Actually, dryer fires are a leading cause of all fires. With this knowledge, we offer dryer duct preventive maintenance programs for commercial property owners and managers throughout the Lackawanna County area. We can scheduled regular dryer duct cleaning to reduce the risk of dryer fires while also improving your dryer's efficiency.
Below is a video showing our duct cleaning process:
https://www.youtube.com/watch?v=UkXaLTRNoHE
Small Office Buildings
Large Office/High-Rise Office Buildings
Apartment Buildings
Restaurants
Hotel/Motels
Small Retail Stores
Large Retail/Big-Box Stores
High-Rise Residential
Manufacturing & Industrial
Government/Military
Have Questions? Call Today – (570) 235-1646
Commercial Building Restoration Services
We are available 24 hours a day to get your Carbondale business back up and running. Our expertise includes restoration services for fire and water damage, including electronics restoration and document drying. We are also your business's best resource for mold remediation. Learn more about our commercial restoration services:
Commercial Building Cleaning Services
Whether your need is removing an odor problem or deep-cleaning flooring or carpets, you can depend on SERVPRO of Carbondale / Clarks Summit / Old Forge to get the job done right the first time. We'll respond promptly and make your workspace look its very best. Learn more about our commercial cleaning services: